I've decided to record my journey of building an accessory dwelling unit (ADU) in the City of San Diego due to the general lack of other resources I've found in researching this topic.
Background on the Project
My partner Cris and I bought our property in Fall 2013. A big selling point was the large lot (nearly 7,000 square feet) and its zoning as multifamily. We were told when we saw the property that we could potentially build a second unit for rental income. Many of the other properties around us have apartment buildings that were allowed in the '60s before the area was down-zoned again.
Our property is currently zoned RM-1-1, which permits a maximum density of 1 dwelling unit for each 3,000 square feet of lot area.
Check the zoning of your property here.
Since our lot is 6,751sf, we could potentially have 2 dwelling units on our lot. Currently, the parking requirements to build another dwelling unit would be unattainable for us without some demolition of our current garage or home. From 2013 until 2018, we knew it would not be legally possible to add another dwelling unit to our property due to the parking restrictions. Many property owners around the city have added non-permitted units to their properties.
New ADU Regulations
In 2018, the City of San Diego decreased the permitting fees and parking requirements to build what's called an accessory dwelling unit (ADU). An ADU can be classified as either a Companion Unit (up to 1,200sf detached, or 50% of the gross floor area of the main home) or a Junior Unit (up to 500sf).
Companion Units do still require parking, but due to the new ADU regulations, the parking space can be tandem (see middle bullet point of page 2). Junior Units under 500sf do not require parking be provided.
Here are the full regulations for Companion Units. See pages 1-4 under §141.0302 Companion Units and Junior Units.
There are some exemptions for Companion Unit parking requirements, including if your property is located within a transit area. Our property is. In order to figure this out, I had to go to the San Diego Development Services Department and request a Parcel Information Report. If you live near a large road that has bus stops, it's possible you're located in a Transit Overlay Zone.
Our property is able to accommodate tandem parking, but since we are in the Transit Overlay Zone, we don't need to provide any off-street parking for our ADU.
More on ADUs and the new 2018 regulations:
http://www.hcd.ca.gov/policy-research/AccessoryDwellingUnits.shtml
http://www.hcd.ca.gov/policy-research/docs/SummaryChangesADULaws.pdf
http://www.hcd.ca.gov/policy-research/docs/FAQsADUs.pdf
Our Project Goals
We have a few different goals and needs for this project. First of all, in order to pay back the costs of the build, we are planning to rent it out as either a long- or short-term rental. Legally, a companion unit or junior unit cannot be used for a rental term of less than 30 consecutive days, so there's that to consider. We'd rather do short-term rentals so we can reserve the space for out-of-town friends and family when they visit (this is quite often for us, and our home is only 2 bedroom, 1 bath so it would be nice to have a separate space for guests).
Secondly, we'd like to include a space for an office – this could be a second story. Currently, I work from our second bedroom, but soon my partner Cris will be joining my business and working from home, so it'd be great if he had a separate space.
A long-term goal would be to have a place our parents could live in their old age.
Our Design/Build Options
We are currently evaluating 3 options:
1. A traditional build
2. A manufactured/pre-fab solution
3. A recycled shipping container build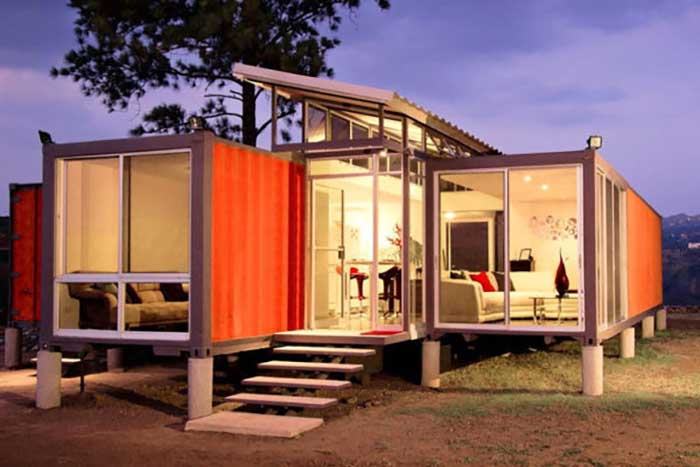 Photo Source
Our price range is between $50-100k for this project, but we'd like to keep that number closer to $50k if possible since we will be taking out a home equity loan to pay for it. We estimate we could make at least $1500/month in rental income, so this would take between 3-6 years to pay off.
We've reached out to a few architects, a few pre-fab solution companies, and a few firms who specialize in shipping container builds. Since we want to do a 2-story structure to accommodate the office space, a pre-fab solution will probably not work and a traditional build will probably be too expensive, so as of right now we are leaning toward the shipping container solution.
We'll be meeting with RadLab later this week. They're the firm who created San Diego's Quartyard project and have a lot of other shipping container projects in their portfolio.
Post photo: https://www.propelstudio.com/project/the-shed-accessory-dwelling-unit-adu/