We've officially decided to move forward with a recycled shipping container build and will be working with the architecture firm RadLab, who have a lot of experience with this type of project.
There are a few preliminary steps I've taken to get things moving. As part of the project, we will be replacing a fence along one side of our property. I wanted to be sure to put the fence within our property line, so I wanted to double check where our property line actually was.
To do this, I looked up property survey records at https://srs.sandiegocounty.gov/ This record system yielded some super interesting info about our area, some of it dating back to 1874 when our area was considered "The Ex Mission of San Diego".
Another interesting find was a subdivision map dating to 1907 when apparently El Cajon Boulevard was Cajon Avenue, Meade Avenue was Olive Avenue and our street didn't exist yet.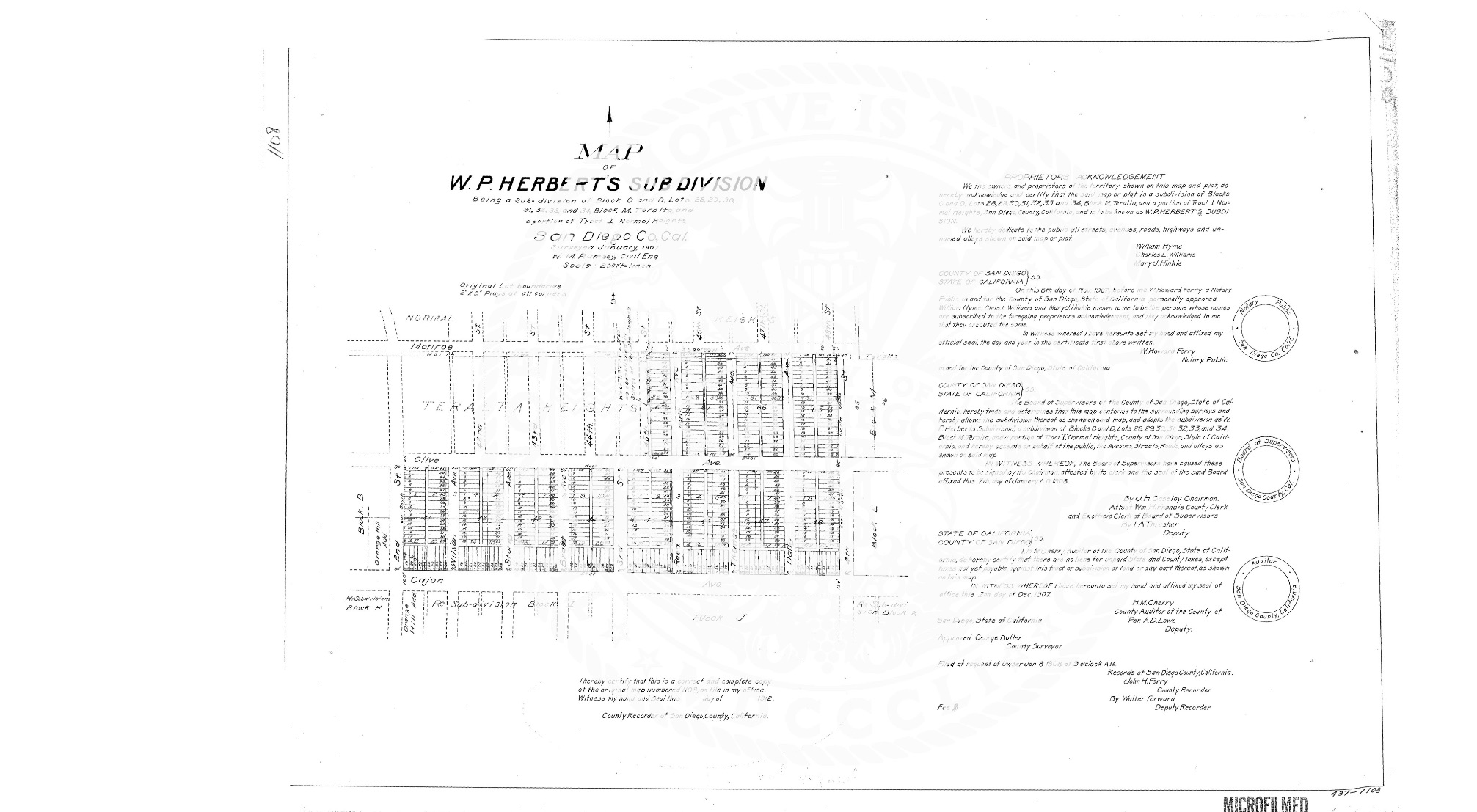 Most importantly, I did find our plat of survey which was done in 2007. This shows the exact property dimensions as they relate to iron pins that are in the sidewalk out in front of our property which denote the property lines.
I also discovered our property and the two properties on either side of us were owned by one family from 1935 until 2007, when the properties were split into three and sold. My partner and I are the first owners of our house to ever live in it! We also learned our subdivision is called Orchard Villa. There's actually an apartment complex on our street called Orchard Villas, now we know why!
After I had the exact property dimensions, I put together a little site diagram of our existing property (with current fence, concrete work, etc.), and then adjusted it to our envisioned plan.
Working with RadLab, our preliminary idea is to place a 40 foot container parallel to our garage which will serve as our studio rental unit. On top of that, we plan to place a 20 foot container to serve as our office. Below is as far as we've gotten with our preliminary plans:
The total square footage of both containers will be 480sf, which puts us in the "Junior Unit" category of ADUs, but that doesn't have any implications in our circumstance.